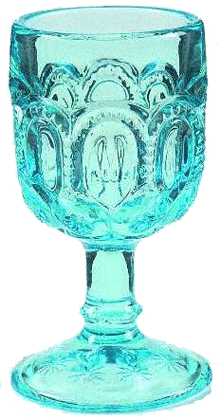 Future Moon and Star Glass Club
Annual Convention, Show and Sale
Society of Moon and Star Pattern Glassware –
The Official Moon and Stars Glass Collectors Club
2014 Moon and Star Glass Show
Exciting News! This June we will be partnering with Imperial and Fostoria collectors clubs for a GLASS MEGA SHOW!
Elegant Glass Show & Sale
June 13 - 15, 2014
Moundsville Center Building
901 Eighth Street, Moundsville, WV 26041
(Enter through north gate at site of the former West Virginia Penitentiary)
Fri., June 13, 4:00 pm ~ 7:00 pm ($10 adm, good thru Sun.)
Sat., June 14, 11:00 am ~ 4:00 pm ($5 adm, good thru Sun.)
Sun., June 15, 11:00 am ~ 3:00 pm ($5 admission)
2014 Convention Schedules of Sponsors
Imperial Glass Society ~ www.imperialglass.org ~ 740.671.3971
Fostoria Glass Society ~ www.fostoriaglass.org ~ 304.845.9188
Society of Moon & Star ~ www.moonandstarglassclub.com ~ 304.281.5573
Important 2014 Show Links:
Forms for those interested in selling/showing glass:
2014 Show Flyer ~ Click here to download the PDF
Questions? Contact John Weishar at 304-233-3994
Dear Friends and Collectors:
A Moon & Star Convention will be held this June (2014) in Wheeling and Moundsville, WV.
The convention will feature several special attractions. Tours of the Island Mould & Machine Co.. The only existing mould shop in the U.S.A. that specializes in making moulds for the Hand Plant Glass Industry. They will be celebrating their 75th Anniversary this year.
Another special item will be a tour of the Weishar Glass Museum and the Grand Opening of the new Weishar Gift Shop. Weishar Enterprises will be celebrating its 25th Anniversary as well.
Other tours offered will be of the National Imperial Glass Collectors'Society Glass Museum in Bellaire, Ohio and a tour of the Fostoria Glass Collectors'Society Museum in Moundsville, West Virginia.
Fees for the tour of Island Mould & The Weishar Museum will be $5.00 per person unless you are a registered club member of either of the three collector clubs.
Fees for the other museums are as follows; Imperial Glass Museum $3.00 per person and Fostoria Glass Museum $6.00 per person.
In addition to tours there will be a Mega Glass Show and Sale at the Moundsville center Building in the former West Virginia Penitentiary in Moundsville, West Virginia. The Sale will last for three days, starting on Friday June 13, from 4pm to 7pm. ($10.00 entrance fee good for three days) Second day of the show will start on Saturday June 14, at 11:00 am and last till 4:00 pm ($5.00 entrance fee good for two days) and the last day of the Mega sale will be on Sunday June 15, at 11:00 am and last until 3:00 pm. ($5.00 entrance fee good for Sunday)
Hope to see everyone at the convention.
John Weishar
Weishar Enterprises
84 Joan Street
Wheeling, WV 26003
304-233-3994 voice
304-233-3981 fax
John@weishar.com
www.weishar.com
Click Here to See The Current Board of Directors
Copyright © Moon and Star Glass Club. All rights reserved.