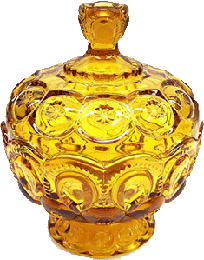 Education and Image Gallery
Society of Moon and Star Pattern Glassware –
The Official Moon and Stars Glass Collectors Club
For reference, below is a visual slideshow of several pieces of glassware labeled with color identifiers.
If you need additional information about a piece of Moon & Star Glass, email us at:
info@moonandstarglassclub.com,
and we'll try to educate you on your piece.
Copyright © Moon and Star Glass Club. All rights reserved.