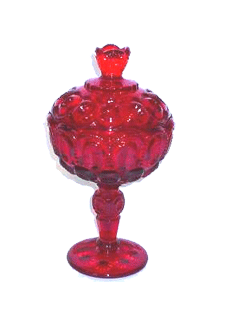 History of Moon and Star Glassware
Society of Moon and Star Pattern Glassware –
The Official Moon and Stars Glass Collectors Club
Many a home has held a set of "Moon and Star" canisters in its kitchen, a "Moon and Star" candy compote on its coffee table or a beautiful "Moon and Star" lamp on a bedside table. Collectors are drawn to the distinct pattern and the electric colors, ranging from ruby red, amber, green, colonial blue, amberina cobalt or the original crystal clear. For many of Americans, the memories of the "Moon and Star" pieces are what make this glass one of the most popular patterns in vintage glassware collecting.
When beginning to study about the history of "Moon and Star" pattern glass it is important to realize that there have been many companies that have produced the popular pattern. A quick rundown includes:
Adams & Co. circa 1880's
U.S. Glass circa 1890's
L.G. Wright circa 1930's - 1960's (Fenton Glass Co. for L.G. Wright)
L.E. Smith Glass Co. circa 1940's – 2004
Imperial Glass Co. for L.E. Smith circa 1960's
Miniatures by L.E. Smith for Levay Distributing Co. circa 1970's
Weishar Enterprises or Island Mold - current producer
Kemple Glass Co. credited with "Moon & Star Pattern" variations | Crescent Glass Co. for L.E. Smith
Adams & Company – late 1800's:
In 1874, the Adams & Company introduce a new pattern of pressed glass they called "Palace". Note that the glass known as "Palace" eventually earned the nickname, "Moon & Star" because of the star-like design and round depression that took on a moon shape but only gained the "Moon and Star" name once L.G. Wright began production. The early 1880's pieces were all clear glass and came in the shape of goblets, sugar bowls, creamers, butter dishes, relish trays, shakers, spoon rests, candy compotes, and more utilitarian pieces. For pieces with more elaborate details, such as twisted handles, the handles themselves were made separately and added to select pieces of the pattern. As a way to determine the age of a piece, the older pieces can be distinguished from the newer pieces by looking at whether or not a piece has the desirable twisted handle. While the "Palace" or "Moon and Star" pattern was extremely popular, the ability to transport the delicate glassware was difficult and impractical due to the weight and irregular size of many of the pieces making its success difficult.
L.G. Wright – 1930's - 1999
Around the mid-1930s, a glassmaker named L. G. Wright noticed a renewed interest in pattern glassware. Wright worked out a way to commission several factories to produce reproductions of some of the popular patterns from the late 1800's. The L.G. Wright glass company never actually pressed any of their own glass items. Companies like L.E. Smith, Imperial, Fenton and more did the actual manufacturing work while L.G. Wright was noted as the maker.
L.G. Wright was known as primarily producing glass patterns that other companies had already manufactured (such as Adams Glass Co's "Palace" pattern which was renewed and renamed "Moon & Star". The L.G. Wright Company first produced the "Moon & Star" pattern in the mid to late 1930's.This was easily done by using an older existing mold or by creating a new mold to reproduce a piece. Since Wright didn't produce their own glass, factories produced glassware that was somewhat more factory-line production that the delicate pieces previously produced by Adams. Wright was able to work out a way to not only produce "Moon and Star" but also other popular patterns, such as, "Daisy and Button", "Rose and Snow", "Westward Ho", and other glass patterns thought to be lost forever. A review of a 1938 inventory list shows both bowls and goblets available in the "Moon and Star" pattern. Mr. Wright sold the glassware to department stores, gift boutiques and antique dealers. It is believed that the blue opalescent color was added to the product line, which had only included clear at this point, as both options were offered in old brochures from the mid 40s. Many different colors and items continued to be manufactured in the "Moon and Star" pattern up until the 1990s. The L. G. Wright Glass Company closed its doors permanently on May 27, 1999.
L. E. Smith Glass Company – Late 1940's – 2004
In the late 1940's, another glass maker started reproducing pressed glass for the Wright Company. (This company is the L. E. Smith Glass Company. In the 60's Moon and Star pieces started to show up in the Smith catalogs in various colors and designs.)
In 1962, the L. E. Smith Glass Company officially contracted with Joseph Weishar of the Island Mold Company to produce some new pieces of "Moon and Star". The agreements held that the molds would remain the property of Island Mold Company and L. E. Smith Glass would pay royalties for each piece Weishar produced for them. The L.E. Smith glass company never owned any of the Moon & Star molds. They only leased them from the Weishars to press Moon & Star pieces. (Most of L E Smith Moon and Star pieces are not marked. You will find a few pieces marked and when you do they are marked with an S with a G in the top part of the S and a C in the bottom part of the S. Smith marked pieces are hard to find.)
Weishar Enterprises – 1980's - current
In 1988, Weishar Enterprises produced miniature water sets in various colors. The Weishar produced glass grew into a collectable line introduced in the early 90's. This collectible line reproduced some of the earlier more popular pieces of "Moon and Star", but were all marked with the Weishar signature which allowed the earlier Wright and Smith pieces to retain their value. Weishar still produces the "Moon and Star" pattern, however, many of the pieces are in new colors, previously unavailable and all are marked with the Weishar signature.
Copyright © Moon and Star Glass Club. All rights reserved.